For students attending the Master's Programme in Toxicology

Programme overview

The first semester is focused on the mechanisms and effects from interactions of cells and tissue with chemicals and drugs, whilst the second semester highlights methods and concepts for studying toxic effects and assessing health risks. The courses during the third semester put everything into context of policy, ethics and society, and with a global perspective of sustainability. It also includes two elective courses. The programme ends with the thesis project.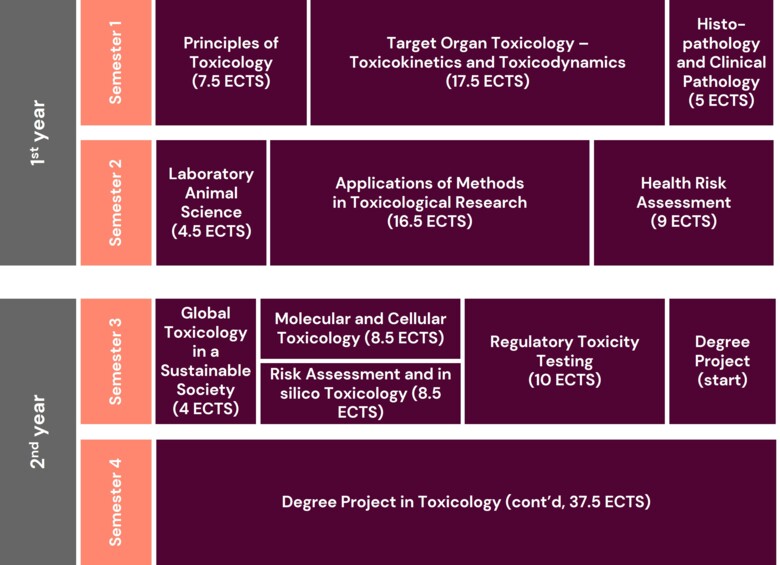 Programme overview Photo: N/A
Semester 1
Semester 3
Semester 4
Course dates autumn 2023 and spring 2024
Semester 1 (autumn)
Principles of Toxicology: August 28 -  October 1
Target Organ Toxicology - Toxicokinetics and Toxicodynamics: October 2 - December 13
Histopathology and Clinical Pathology: December 14 - January 14, 2024
Semester 3 (autumn)
Global Toxicology in a Sustainable Society: August 28 - September 13
Molecular and Cellular Toxicology (elective course): September 14 - October 19
Risk Assessment and In Silico Toxicology (elective course):  September 14 - October 19
Regulatory Toxicity Testing: October 20 - November 29
Degree project in Toxicology: November 30 - June 2, 2024
Semester 2 (spring)
Laboratory Animal Science: January 22 - February 9, 2024
Applications of methods in toxicological research: January 15 - April 16, 2024
Health risk assessment: April 17 - June 2, 2024
Semester 4 (spring)
Degree project in Toxicology (cont): January 15 - June 2, 2024
Academic calendar
The academic year is divided into two semesters. The autumn semester begins in late August and ends in mid January; the spring semester begins in mid January and ends in June. The start- and end dates of each semester are available here.