For students attending the The Master's Programme in Translational Physiology and Pharmacology

Programme outline and study plan

Programme outline and study plan.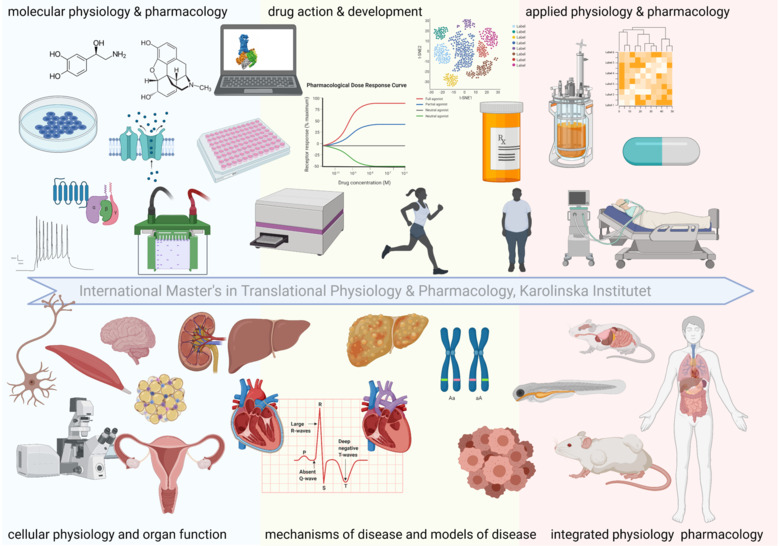 Programme outline Syllabus 4FF22
The Global Master's Programme in Translational Physiology and Pharmacology gives students an integrated knowledge of human physiology, pathology, and pharmacology with emphasis on mechanism-based therapies and drug development in a truly translational approach. The obtained skill set at the crossing of academia, applied science and industry is key to understanding human diseases and their treatments rendering the students attractive and highly employable with the utmost potential to improve global health.
Programme overview
The first semester provides a foundation in integrated physiology and pharmacology as well as a course in professional development, while the second semester focuses more on mechanisms and experimental approaches. The third semester includes elective courses and research projects in collaboration with an academic lab or a Life Science company. The program ends with the thesis project.
Courses
Semester 1:
Integrated Physiology and Pharmacology 25 credits
Professional development and ethics 5 credits

Semester 2: 
Bioinformatics from a physiological and pharmacological perspective 7,5 credits
Physiological and pharmacological mechanisms and experimental approaches 15 credits
Project work in translational physiology and pharmacology 7,5 credits

Semester 3:
Semester 3 includes 15-credit, second-cycle elective courses. The purpose of the elective courses is to allow students to expand their knowledge in a variety of areas, such as information literacy, laboratory animal science, GCP, advanced human research, omics and receptor pharmacology.  
During year one of the programme, we will give you more information and individual guidance regarding this opportunity and how to apply.
Elective courses offered by the Department of Physiology and Pharmacology:

Laboratory animal science, behavior and metabolism 7.5 credits 
Searching, Writing and Presenting Science and Information Literacy 4 credits
GCP and Clinical Pharmaceutical Trials 3,5 credits
Advanced Human physiology Research, 7,5 credits
Advanced Receptor Pharmacology 4 credits
Omics in science - bioinformatic analysis and visualization of gene regulation 3,5 credits


Applied physiology and pharmacology - research project 1  7,5 credits
Applied physiology and pharmacology - research project 2  7,5 credits

Semester 4:
Degree project in translational physiology and pharmacology 30 credits
Academic calendar
The academic year is divided into two semesters. The autumn semester begins in late August and ends in mid January; the spring semester begins in mid January and ends in June. The start- and end dates of each semester are:
Autumn semester 2023        2023-08-28 - 2024-01-14
Spring semester 2024          2024-01-15 - 2024-06-02
Autumn semester 2024        2024-09-02 - 2025-01-19
Spring semester 2025           2025-01-20 - 2025-06-08
Autumn semester 2025         2025-09-01 - 2026-01-18
Spring semester 2026           2026-01-19 - 2026-06-07
Autumn semester 2026         2026-08-31 - 2027-01-17
Spring semester 2027           2027-01-19 - 2027-06-06